Greg Colley Art Services, Art Advisory, and Dealer Services has evolved from a lifelong admiration of art, a finance background, over 20 years of art business experience, and an adept eye for under-valued art.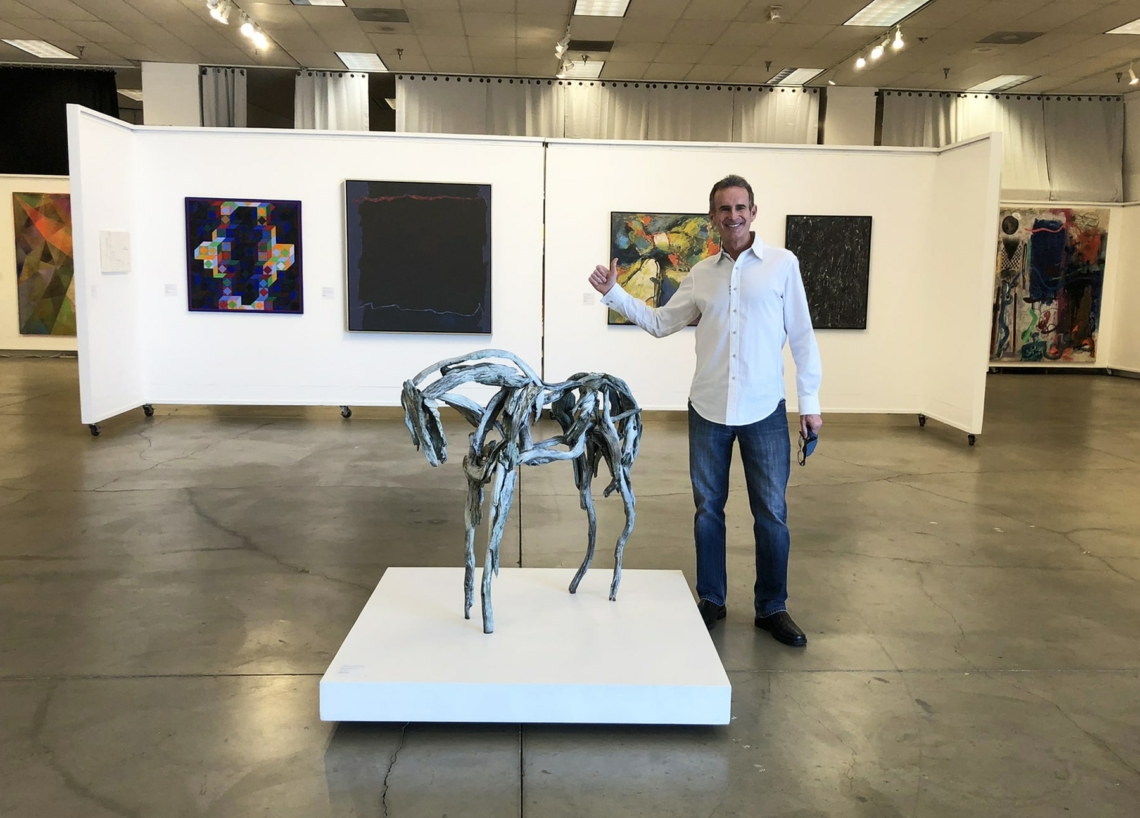 With an art appreciation formulated in his teens, a college education in finance, and corporate business experience combined with over 20 years as a fine art dealer, Greg Colley has a unique qualification of art business experience.
There's nothing new about Art Advisory but "Dealer Services," you don't see that often! Over the last 20 years working as a fine art dealer, Greg Colley has purchased and sold more art with dealers than private collectors. "Working with art dealers is straightforward because they know the business; they have confidence in their eyes and know what they like; you just have to source the art and price it right."
Strong relationships with art dealers, in combination with vast computer-related skills, photography, and marketing experience, have led Greg Colley to assist some of his dealer friends with their websites and online marketing. With this background, "Dealer Services" materialized!
Art Advisory with Private Collectors and Art Connoisseurs
When an art collector or dealer experiences the joy of adding a new coveted addition to their collection or inventory, one only knows that feeling if they've had that experience. If you've ever sold a painting at a public auction and your after-fees "net" was a loss, you, unfortunately, felt that experience as well. It's these experiences that educate you, and being a dealer for over 20 years, buying and selling art, you learn a lot and want to share those valuable lessons with your clients. Often art advisors claim not to have a conflict of interest as an advisor because they don't sell art. How can an advisor consult with a client about buying and selling art if they don't buy and sell art themselves?
You have to have an eye commensurate with your budget. You should love the art you buy; however, be vigilant and conscious of the cost-to-value ratio and what you might be able to sell the art for one day in the secondary market. Greg Colley Art Services can assist any range of art collectors, from beginning collectors to highly seasoned art connoisseurs.
My Art Story
While still living at home while attending college, my father agreed to allow me to convert our garage into my new bedroom, or today they would call it an ADU (accessory dwelling unit). The condition was that I had to pay for the project. I agreed, but little did I care at the time that my old bedroom in our home would become his new art studio. My father was an amateur artist and loved to paint American Indian and Western landscapes. Our home's walls (and floors) were filled with his paintings. Sales of his paintings took place in our driveway, garage sale style, with rows of oil and acrylic on canvas paintings lined up in the driveway leaning against the exterior walls of our home. At the time, I needed some art for my new room, so I utilized my father's studio to paint a few paintings. One of the paintings for my new room was an original abstract painting; the other was a copy of my favorite beach towel. Later looking at an old Polaroid photo of the beach towel I copied, it occurred to me that the painting was in the "hard edge" style, which is one of my favorite styles today.
Art Addiction
In March 2002, My wife Teri and I purchased a spacious Spanish home in Glendale, California. We loved the Spanish Revival architecture, which Glendale is known to have many. We started furnishing the home with period Spanish Revival antiques, Persian rugs, décor, and art. At first, we started buying art at antique stores, then galleries, and we moved on to public auctions. My addictive behavior was kicking in, but luckily this time, it was for something healthy, fine art!
My college study and professional career were in real estate, first commercial real estate brokerage, then commercial real estate title insurance. The real estate business was good to me, which allowed us to purchase more art. Quickly the walls of the new home were filled, but now with my art addiction in full swing, I wanted to keep buying. Once the walls of our home were filled, I had to start selling some art to buy more and not have too many paintings on the floor. Although upgrading one's art collection is always a good idea, I didn't want only to collect now; I wanted to keep buying and selling art.
With my art collecting consuming my interest at this time, I decided to become an art dealer as a side business to my job working for a Fortune 500 company in the corporate commercial real estate title insurance business. In 2002, during my first year in my new business venture, I realized after having built my real estate website, I could purchase artist's names .com and .net domains and build art websites to source secondary market paintings from private sellers. This idea took hold, and in two weeks over the Christmas holidays, when the title business slowed down, I built 50 art websites in addition to my main company website www.CaliforniaArtCompany.com.
Art Took Over in 2010
I can remember times while doing the corporate thing in downtown Los Angeles, being in a sales meeting, and having my cell phone ring with art-buying opportunities. At that time, one of my best art customers proposed to become my business partner and for us to take my art business full-time. At first, I did not take the idea too seriously, but after several meetings between 2009 and 2010, I decided to go for it and resigned from my suit and tie job to become a full-time art dealer. Our partnership flourished, and we are still business partners to this day.
Over the last 20-plus years, we've witnessed a few business cycles and trends that have significantly affected secondary market art values. We have collaborated with authors, curators, and museums for exhibitions, painting loans, and publication photography. We have held booth exhibitions in art shows, operated a full time gallery in Pasadena, California and have also been employed by a well-respected auction company in Southern California.
Art Dealer, Advisory and Services
Unlike most business, financial, or real estate transactions, the actual transaction of buying and selling art is reasonably simple and much more fun. I often tell people with real estate experience that purchasing art is like buying real estate without all the paperwork hassle. What to buy, where to buy, and how to purchase art can involve a lot of education and experience. We feel that our combined education and art business experience are unique and that we can assist you whether you are a beginning collector, seasoned art expert, or dealer.