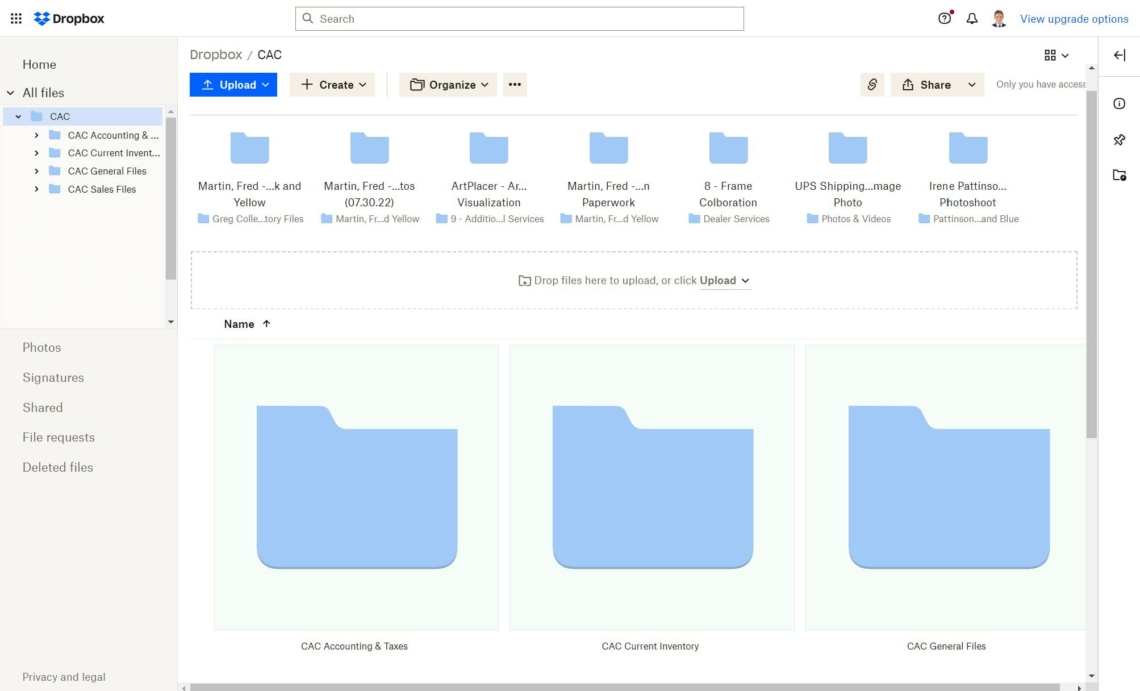 If you have ever been audited or submitted an insurance claim, you know how vital receipts and documentation are. Greg Colley Art File Management can assist you with keeping complete and accurate files which is essential for every art collector and dealer.
Onboarding
When an artwork is purchased or consigned, our goal is to process the artwork immediately; we call this process "onboarding." We catalog the artwork in our inventory and accounting spreadsheet, create a paper file and an electronic file, conduct a photoshoot, and place all the digital photos (see CaliforniaArtCompany.com photos) into a subfile within the electronic file. This initial onboarding process, including photography should be updated when the artwork is labeled with your back label, receives conservation treatment, or is reframed.
Creating and Organizing Manila Files
Old school manila files might soon become a thing of the past, but we still use them. We create a Smead® File Folder, 1/3 – Cut Tab, Letter Size file for every artwork. We place a White Brother® P-Touch label listed by Last Name, First Name / Artwork Name on the tab. Each file contains all the paper receipts connected to the artwork, such as the original purchase receipt, shipping, travel, conservation, framing receipts, etc., and any provenance information or documentation affecting the artwork.
We alphabetize these files by the artist's last name in a letter-size storage box. We use plastic waterproof storage boxes that are sturdier and last longer than cardboard banker boxes.
Creating and Organizing Electronic Folder Files
Electronic folder files contain all the same information as our manila files with the addition of a photography sub-file. Eventually, we may only store electronic files to save space and paper, but today we still like having both a manila file and an electronic folder file.
Electronic folder files with the addition of the photography subfile are labeled the same and duplicate the manila file. We scan all the paper receipts, etc., located in the manila file and insert all the pertinent information relating to each artwork into the electronic folder. Two copies of the electronic file are kept. One copy is located either on a computer hard drive or a USB flash drive, and the other is located in a cloud application.