Having predesigned custom forms & templates at your ready saves time. We offer predesigned Microsoft Word, Excel, and Publisher templates specifically for art dealers that can be explicitly edited to fit your needs, or we can create any worksheet form or template your company may need. So whether you prefer Microsoft Word, Excel, or Publisher, we can make your custom form or template to your specification. Contact us for more information!
Invoices, Receipts, and Agreements For Art Dealers
If you want to generate a receipt, invoice, or any form to be printed from a proprietary art gallery-specific CRM program or want a custom Microsoft product form template that is Adobe PDF e-Signature ready, we can assist you. Our forms and templates can be customized specifically to meet your needs and include any number of pages, paragraphs, and artwork photos.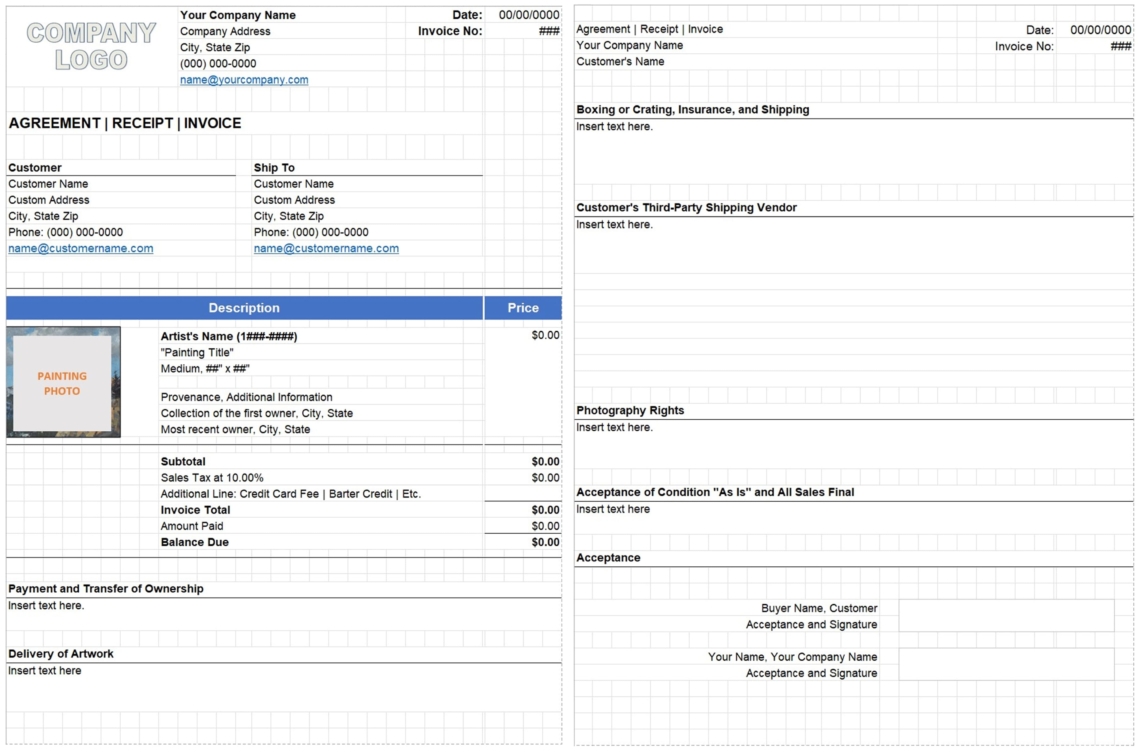 Adobe PDF Conversion and e-Signature Compatible
Our Microsoft (Word, Excel, or Publisher) custom forms & templates can be easily saved to Adobe PDF format with editing protection and are Adobe e-Signature ready. Adobe's PDF documents e-Signature feature (requires an Adobe Acrobat Pro plan) allows you to email any form, document, or agreement to your client for their electronic signature approval. This efficient Adobe PDF feature allows your client to sign any document without having to log in or create another tedious password. We can also assist you with a short course on Adobe PDF best practices and the Adobe PDF e-Signature function.
Art Gallery Inventory or Sub-Inventory Collection Spreadsheets
Have you ever considered or wanted to submit a customer-specific curated collection of artworks to a preferred client? We offer an easy-to-use Microsoft Word or Excel spreadsheet template presenting artworks listed alphabetically by artist, acquired or sold date with or without photographs for a specific collection, client offering, or inventory list. Artworks can be added or eliminated easily and re-sorted and toggled alphabetically or by date acquired or sold.
Do you need a custom-designed form or template not mentioned here? Then, don't hesitate to contact us for a free consultation; we are sure we can assist you in developing your custom-designed art business success tool.