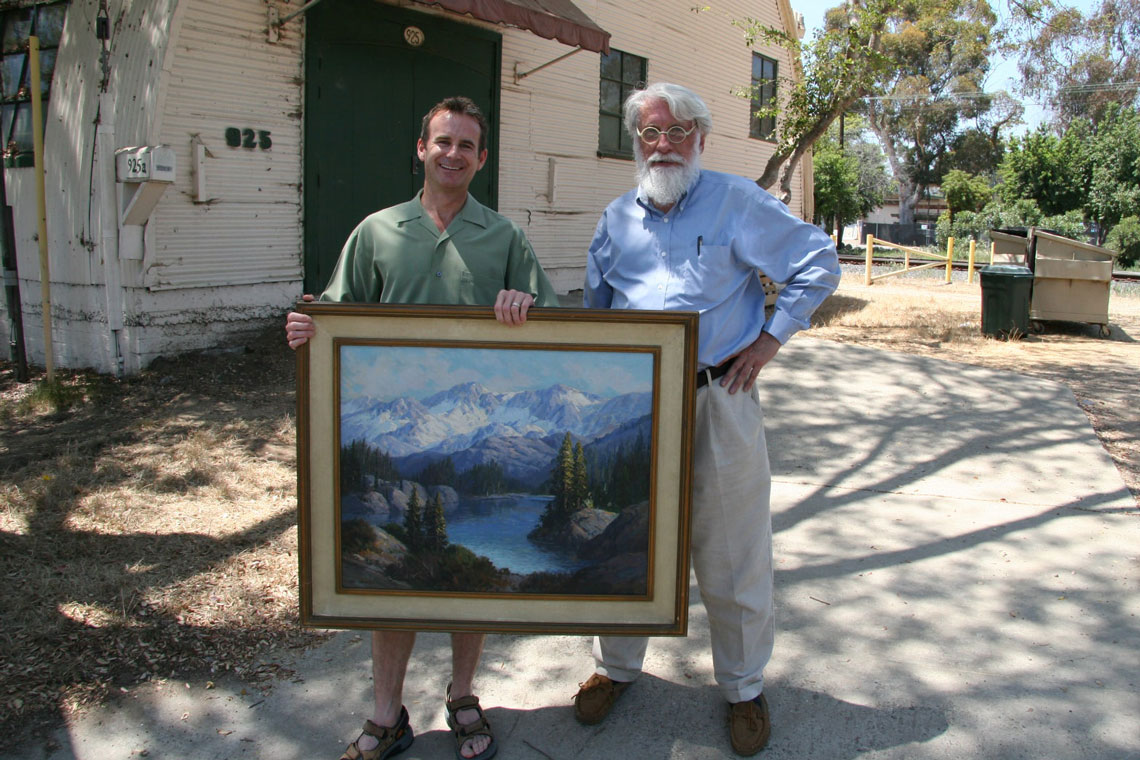 As a secondary market art dealer with www.CaliforniaArtCompany.com for over twenty years, we've received hundreds of submissions from private parties seeking to sell their artwork or paintings. Greg Colley art advisory can assist you with selling or consigning your artwork or paintings. Below are a few insights and considerations that we hope you will find beneficial if you consider selling any artworks or paintings. Also, in addition to the information presented here, you will find more information regarding selling or consigning your artwork or paintings on our online gallery website at www.CaliforniaArtCompany.com.
Please note: As a fine art dealer and art advisor, we exercise the utmost caution not to create a conflict of interest when consulting for a fee with a potential client regarding the disposition consultation of artworks or paintings. Any artworks or paintings disposition fee-consulting will disqualify our company from acquiring the artwork being considered for sale.
Submitting Artwork or Paintings for Sale to Art Dealers or Auction Companies
Artwork or painting submissions to art dealers and auction companies can range from disingenuous potential art collectors (or buyers) seeking to solicit information for one reason or another to genuine and transparent bonafide private sellers. When contacted, experienced art business professionals can usually determine who is legitimate and who's not. Before you reach out to an art business professional requesting a sales estimate (auction house) or purchasing interest (art dealer), consider including the following information to solicit a faster, more efficient, and more accurate response.
Your name, address (or at least city), and phone number
State who is the owner of the artwork or painting
From whom you acquired the artwork or painting
How long have you owned the artwork or painting
Explain any receipts or documentation you may possess
List any condition issues you may be aware of or see
Photos of the entire front of the artwork or painting, including the frame
Photos of the whole back of the artwork or painting
Multiple close-up photographs
Close-up photos of the signature, labels, or pertinent areas
By providing transparent and detailed information, you will be recognized as a bonafide owner and potential art seller and will most likely receive an accurate response. Emails with a small photo and the words "make offer" or "please advise" could be considered suspicious, will lead to more email questions, or you may not receive a response.
Know Your Fine Art Selling Options
Our art advisory goal for the disposition of artworks or paintings is to consult with sellers of fine art to educate them on their selling options and to determine which option is best for them. Not everyone's selling goals are the same. Some sellers may want a quick sale and choose to sell wholesale to a private party or dealer, whereas others may decide to consign to a public auction company or art gallery. The timelines, risks, and selling fees and costs vary depending on your chosen selling option. As a seller of fine art in the secondary art market, your selling options typically consist of the following:
Selling to a friend or person you know
Selling (usually wholesale) through an online platform
Selling wholesale to a dealer
Consigning to a dealer
Consigning to an auction company
Each selling option listed above has different pros and cons, risks, fees or costs, and selling timelines to consider. Determining a selling strategy for your fine art should first require you to understand your options and the benefits and pitfalls of the different selling options.
Determining the Value of Your Artwork or Painting
One of the challenges sellers of artworks face is art market transparency, lack of regulation, and the often undefined terminology for an artwork's "value." We receive submissions quite often, whereas the artwork's seller has an "appraised value" of nearly twice what the seller can actually "net" from selling their artwork or painting. Often art appraisals do not fully define the different types of art value definitions and potential value variations after selling fees or costs that can be associated with the sale of artwork.
Providing an opinion of value, appraisal, or auction estimate for "one-of-a-kind" artwork can be challenging. With one-of-a-kind artworks, unless the actual artwork or painting has sold previously at a public art auction and the sales price was reported and posted publically, including all selling fees, there can only be speculation ascertaining comparable sales for the artwork. Different points in time and different auction houses in varying locations can also cause a variance in reported auction sales results and sales comparables. Furthermore, because the word "value" can have several definitions or meanings, the value opinion or appraisal can often have a relatively substantial discrepancy between different sources and what a seller of artwork could actually "net" from their sale.
Fine Art and Painting Values Defined
Because of various value definitions, lack of sales comparables, and value variances within the art industry, valuing, estimating, or appraising artwork or paintings for one-of-a-kind artwork offered in the secondary market is speculation. In addition to the lack of defined values for art, art specialists at auction houses and art appraisers often differ in their estimates or values. Various auction house specialists can often provide you with a different "range of value," and appraisal values can also vary from one appraisal to another.
Although art valuations, auction estimates, or appraisals can differ between different sources, you can request anyone who provides you with an estimate or appraisal to provide you with the following more definitive estimates listed below. Note that except for "insurance value" or "replacement value," we prefer using the word "estimate" more often than the word value.
Wholesale estimate
Retail estimate
Insurance value
Auction hammer price estimate
Auction sales price "realized" estimate (including "all" fees and premiums)
For more information on estimates of value for fine art and complete narrative-qualified appraisals by designated certified and credited appraisers, please see our "Estimate of Value" page.
Contact Us to Discuss Your Fine Art Selling Options
We hope this summary of information will assist you in the beginning stages of determining your fine art selling options, potential selling strategy, and value estimates for your artwork or paintings. There is much more relevant information and explanation to everything listed here. If you would like more information regarding the disposition of a collection or selling a single work of art, please call (818) 398-7363 or contact us by email at greg@gregcolley.com.